Each wind turbine contains reservoirs for hydraulic oils and other fluids. These reservoirs can be quite large. When a wind turbine falls, there is a huge potential for these fluids to be released onto the ground. In February, a nearly 400-foot, 485,000-pound turbine fell at a farm that is part of Exelon Wind Generation's 32-turbine Harvest Wind 1 Farm, the first utility-scale wind project built in Michigan, which began operation in 2008. According to Exelon, the $1.5 million turbine that fell held about 400 gallons of oil.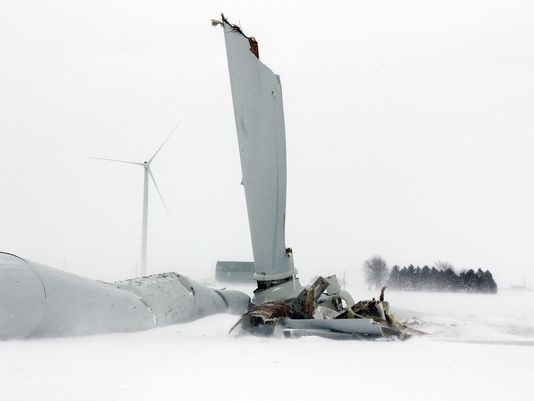 A nearly 400-foot, 485,000-pound wind turbine has fallen down on a farm field at the site of the state's first utility-scale wind project, Thursday, Feb. 25, 2016, in Oliver Township, Michigan. (Photo: Seth Stapleton / AP)
In addition to complete tower collapse, it is also possible that the blades can break, and because of the height of the towers and significant speed at which the blades are turning, the broken pieces can travel significant distance. If setbacks are not sufficient, property damage, injuries, and even death could result.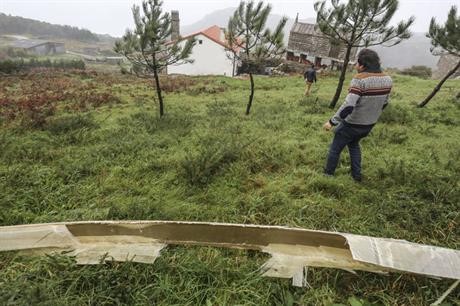 SPAIN: A house has been hit by pieces of a turbine blade that fell from a 300kW turbine in Spain following high winds, several local press are reporting. A piece of the blade near the house in northern Spain (pic: Ana Garcia / La Voz de Galicia)
"Wind turbines may catch on fire ten times more often than is publicly reported, putting nearby properties at risk and casting doubt on their green credentials, researchers have warned. The renewable energy industry keeps no record of the number of turbine fires, meaning the true extent of the problem is unknown, a study backed by Imperial College London found.
An average of 11.7 such fires are reported globally each year, by media, campaign groups and other publicly-available sources, but this is likely to represent just the "tip of the iceberg". There could in fact be 117 turbine fires each year, it argues, based on analysis showing just 10pc of all wind farm accidents are typically reported. Fires tend to be "catastrophic", leading to turbines worth more than £2 million each being written off, because the blazes occur so high up that they are almost impossible to put out, it warns". (Excerpt from an article written by Emily Gosden, July 17, 2014, The Telegraph)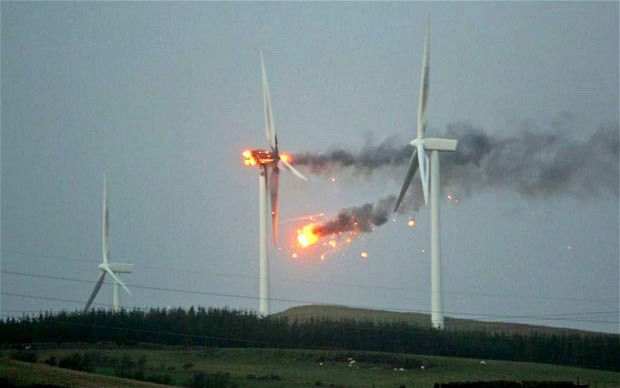 A £2 million, 100 metre tall wind turbine catches fire in hurricane-force winds at Ardrossan, North Ayrshire, Scotland, in 2011. Photo: STUART MCMAHON